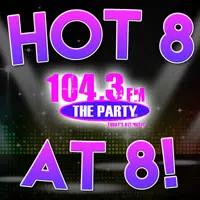 Happy Tuesday! Welcome to your second Hot 8@8 Countdown with Smoky's House BBQ in Charleston all part of The Night Club with Carman! As we kicked off the new year last night, Zayn and Taylor Swift with "I Don't Wanna Live Forever" took the top spot for the 5th time in total on the countdown, can they go for another??? Check out what you helped determine below and also, once again, no new entries on the show either….
7. "Say It" – Flume feat. Tove Lo 
6. "Slumber Party" – Britney Spears feat. Tinashe 
4. "You're Not There" – Luaks Graham 
3. "Million Reasons" – Lady Gaga 
2. "I Feel it Coming" – The Weeknd feat. Daft Punk 
1. "I Don't Wanna Live Forever" – Zayn feat. Taylor Swift 
From the upcoming film "Fifty Shades Darker" Zayn and Taylor remain dominate on the show! Please remember you can help determine the outcome each and every weeknight when voting opens at 5 PM. Polls remain open until 7:30 PM, and you can cast your ballot by calling 217-844-HITS, texting 217-218-0288, or leaving your vote at The Party's Facebook Page!