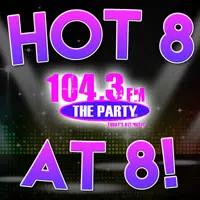 Already Wednesday! Welcome to your mid-point Hot 8@8 Countdown for the week with Smoky's House BBQ in Charleston all part of The Night Club with Carman! It's only the third show for the new year, and Zayn and Taylor Swift continue remaining victorious with "I Don't Wanna Live Forever", can the two go another night at the top? They have a shot because once again, the songs remain fairly consistent on the show, still no new entries on the countdown….
7. "Say It" – Flume feat. Tove Lo 
6. "Slumber Party" – Britney Spears feat. Tinahse 
4. "You're Not There" – Lukas Graham 
3. "I Feel it Coming" – The Weeknd feat. Daft Punk 
2. "Million Reasons" – Lady Gaga 
1. "I Don't Wanna Live Forever" – Zayn feat. Taylor Swift 
Another nights stay at the top for Zayn and Taylor, at this point no slowing them down yet! Please remember you can help determine the outcome each and every weeknight! Voting is always open from 5-7:30 PM and you can get in your vote a few different ways, call 217-844-HITS, text 217-218-0288, or leave your vote at The Party's Facebook Page!