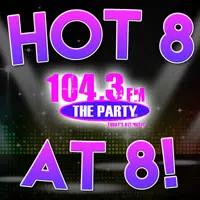 Happy Thursday! Welcome to your Throwback Thursday edition of The Hot 8@8 Countdown with Smoky's House BBQ in Charleston and all part of The Night Club with Carman! Now just because it's a new year does not mean we will stop doing Throwback Tune in Reverse for Pop Culture, we will have that for you tonight as well as some of the hottest new singles you voted for. All this week the song remaining the one to beat is "I Don't Wanna Live Forever" by Zayn and Taylor Swift, find out if they spend another night at the top….
7. "You're Not There" – Lukas Graham 
6. "Say It" – Flume feat. Tove Lo 
5. "Slumber Party" – Britney Spears feat. Tinashe 
3. "Million Reasons" – Lady Gaga 
2. "I Feel it Coming" – The Weeknd feat. Daft Punk 
1. "I Don't Wanna Live Forever" – Zayn feat. Taylor Swift
The current duet partners continue to dominate on the show! That's the 4th time in a row for the new year, the 8th time in total since hitting #1 early last week! Please remember you can help determine if they stay another night at the top. Please remember to cast your ballot every weeknight from 5-7:30 PM. You can get in your vote by either calling 217-844-HITS, texting 217-218-0288, or leaving your votes at The Party's Facebook Page!