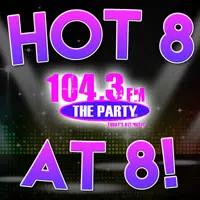 Finally Friday, the first Friday of 2017! You're here in The Night Club with Carman and time once again for your Hot 8@8 Countdown with Smoky's House BBQ in Charleston, your final one for the week of January 2nd through the 6th! Now all this week, all year thus far, the song remaining the one to beat is "I Don't Wanna Live Forever" from Zayn and Taylor Swift, can the two go a solid week at #1 making their stay 9 nights in a row??? Check out what your votes helped determine below and once again, no new entries either….
8. "You're Not There" – Lukas Graham
7. "Fake Love" – Drake
6. "Say It" – Flume feat. Tove Lo
5. "Slumber Party" – Britney Spears feat. Tinashe
4. "Million Reasons" – Lady Gaga
3. "I Got You" – Bebe Rexha
2. "I Feel it Coming" – The Weeknd feat. Daft Punk
1. "I Don't Wanna Live Forever" – Zayn feat. Taylor Swift
By now, it probably comes as no surprise, but the former One Direction member and Taylor Swift hold on once again to the #1 spot on the countdown! If you would like to see them continue their reign when the show resumes on Monday night, please remember to cast your ballot when voting opens at 5 PM. Call 217-844-HITS, text 217-218-0288, or leave your vote at The Party's Facebook Page!