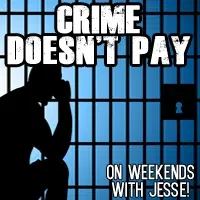 A 56-year-old guy named Alvin Neal robbed a bank in downtown San Diego back in May.  We haven't seen any security footage of it, so it's not clear if he tried to hide his face or not.
But it didn't really matter, because right before he told the teller to give him the cash . . . he swiped his ATM card.
Alvin walked up to the window . . . swiped his card . . . and said, "You're being robbed.  Don't make a mistake."  Obviously HE'D made a pretty big one though.
The teller ended up giving him $565 from their drawer.  Then as soon as he left they called the cops, who used his account information to look up his name . . . driver's license . . . and address.
It turns out he's a registered sex offender, so tracking him down wasn't hard.  And he admitted to robbing the bank after they found his debit card in his bedroom.
A judge sentenced him to three years and ten months in jail on Tuesday.  He also has to pay back the $565 he stole.