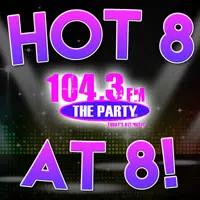 Happy Monday, the second Monday of the new year! Hope you had a fantastic weekend and it's back to the nightly tradition here in The Night Club with Carman, your Hot 8@8 Countdown with Smoky's House BBQ in Charleston! Now when we left the show on Friday night, for the 9th night in a row, the only song to be #1 for 2017 thus far "I Don't Wanna Live Forever" from Zayn and Taylor Swift took the top! Can they start a new week off strong? Check out what you helped determine below, also one new song on the show too!
8. "Rockabye" – Clean Bandit feat. Anne-Marie & Sean Paul (Debut!)
7. "You're Not There" – Lukas Graham
6. "Million Reasons" – Lady Gaga
5. "Fake Love" – Drake
4. "Say It" – Flume feat. Tove Lo
3. "I Got You" – Bebe Rexha
2. "I Feel it Coming" – The Weeknd feat. Daft Punk
1. "I Don't Wanna Live Forever" – Zayn feat. Taylor Swift
That's another good start to the week and the 10th night in a row for Zayn and Taylor! Please remember you can help determine the results each and every weeknight when voting opens from 5-7:30 PM. Cast your vote by calling 217-844-HITS, texting 217-218-0288, or leaving your vote at The Party's Facebook Page!