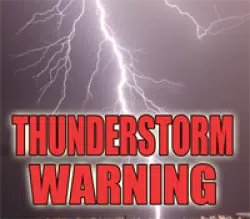 The National Weather Service in Indianapolis has issued a Severe Thunderstorm Warning for Brown, Knox, Monroe, Morgan, Green, Jackson, Martin, Owen, Daviess, Lawrence, and Bartholomew counties in Indiana until 8:30 PM EST.
Around 7:47 PM EST, severe thunderstorms were located along a line extending from Martinsville to south of Linton, moving east at 50 mph.
Storms could produce 60 mph winds and cause damage to roofs, siding, and trees.