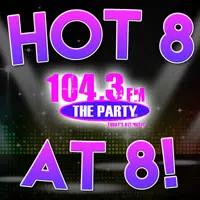 Happy Wednesday! Welcome to your mid-point Hot 8@8 Countdown with Smoky's House BBQ in Charleston for the week all part of The Night Club with Carman! As it's been for all of 2017 (Thus Far) Zayn and Taylor Swift are the ones to beat, "I Don't Wanna Live Forever" has taken the #1 spot. Last night they made it 11 nights in a row! Can they go for 12 tonight? Check out what you helped determine below and also exciting to say we have one new entry and it's from a pretty big name is music too!
8. "Shape of You" – Ed Sheeran (Debut!)
7. "Rockabye" – Clean Bandit feat. Anne-Marie & Sean Paul
6. "You're Not There" – Lukas Graham
5. "Say It" – Flume feat. Tove Lo
4. "I Feel it Coming" – The Weeknd feat. Daft Punk
3. "Fake Love" – Drake
2. "I Got You" – Bebe Rexha
1. "I Don't Wanna Live Forever" – Zayn feat. Taylor Swift
Another night and the two are still going strong! No stopping Zayn and Taylor. Please remember you can help determine what songs make the cut each and every weeknight. Please remember to cast your vote every weeknight beginning at 5 PM. Voting remains open until 7:30 PM and you can cast your vote by either calling 217-844-HITS, texting 217-218-0288, or leaving your vote at The Party's Facebook Page!