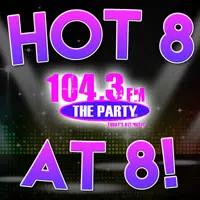 Happy Throwback Thursday! Welcome to another round of The Hot 8@8 Countdown with Smoky's House BBQ in Charleston all part of The Night Club with Carman! As usual, we will have your throwback tune in reverse for Pop Culture and we'll also find out if Zayn and Taylor Swift can remain victorious yet again. Also tonight no new entries either….
8. "You're Not There" – Lukas Graham
7. "Shape of You" – Ed Sheeran
6. "Rockabye" – Clean Bandit feat. Anne-Marie & Sean Paul
5. "I Feel it Coming" – The Weeknd feat. Daft Punk
4. "Say It" – Flume feat. Tove Lo
3. "I Got You" – Bebe Rexha
2. "Fake Love" – Drake
1." I Don't Wanna Live Forever" – Zayn and Taylor Swift
Once again, that's 13 nights in a row now, for "I Don't Wanna Live Forever!" If you would like to see the song close out yet another week at #1 tomorrow night, please remember you have the power to help determine the outcome! Please remember to cast your vote when voting opens at 5 PM and stays open until 7:30 PM. Either call 217-844-HITS, text 217-218-0288, or leave your vote at The Party's Facebook Page!