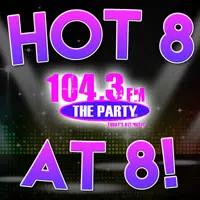 Happy Monday! Hope you had a fantastic weekend and was able to brave the crazy weather conditions, but anyways it's back to another work week and as usual here in The Night Club with Carman, it's time for another Hot 8@8 Countdown with Smoky's House BBQ in Charleston!!! A little refresher from where we left the show on Friday night, for the 14th night in a row "I Don't Wanna Live Forever" from Zayn and Taylor Swift continued to dominate! Can they hold onto their reign to kick off a new week? Check out what you helped determine also excited to say one new song on the show too….
8. "Make Me Cry" – Noah Cyrus feat. Labrinth (Debut!)
7. "You're Not There" – Lukas Graham
6. "Say It" – Flume feat. Tove Lo
5. "Rockabye" – Clean Bandit feat. Anne-Marie & Sean Paul
4. "I Got You" – Bebe Rexha
3. "Fake Love" – Drake
2. "Shape of You" – Ed Sheeran
1."I Dont' Wanna Live Forever" – Zayn feat. Taylor Swift
Another good start to the week and still the only song to be #1 on the countdown for 2017 (thus far)! Ed Sheeran is one to watch so what could happen tomorrow? Remember, you help determine the outcome each and every weeknight. Please be sure to cast your vote beginning at 5 PM each and every weeknight! You can cast your vote by calling 217-844-HITS, texting 217-218-0288, or leaving your vote at The Party's Facebook Page!