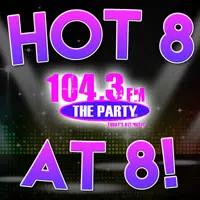 Happy Throwback Thursday! Welcome back to another round of The Hot 8@8 Countdown with Smoky's House BBQ in Charleston all part of The Night Club with Carman! As usual, we'll have on old school track in reverse for Pop Culture Trivia but that can't happen till we count down the hottest new singles on the Party! The past 2 nights the song to beat has been "Shape of You" from Ed Sheeran, can he go a third? Check out the results….
8. "I Got You" – Bebe Rexha
7. "Make Me Cry" – Noah Cyrus feat. Labrith
6. "Say It" – Flume feat. Tove Lo
5. "Paris" – The Chainsmokers
4. "Rockabye" – Clean Bandit feat. Anne-Marie feat. Sean Paul
3. "I Don't Wanna Live Forever" – Zayn feat. Taylor Swift
2. "Fake Love" – Drake
1."Shape of You" – Ed Sheeran
3 nights and counting for Ed! Please remember you have the power to help determine the outcome each and every weeknight beginning at 5 PM. Voting stays open until 7:30 PM so get in your vote by either calling 217-844-HITS, texting 217-218-0288, or leaving your vote at The Party's Facebook Page!