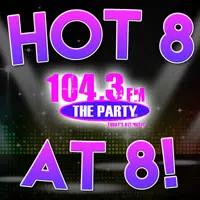 Happy Hump Day! Can't believe another work week is half gone, but time once again for The Night Club with Carman and the weeknight staple that comes with it…The Hot 8@8 Countdown with Smoky's House BBQ in Charleston!!! Once again tonight no new entries, but can Ed Sheeran go for another night at #1, The Chainsmokers have been right behind him with their latest. Find out what you helped decide tonight!
8. "I Don't Wanna Live Forever" – Zayn feat. Taylor Swift
7. "I Got You" – Bebe Rexha
6. "Say It" – Flume feat. Tove Lo
5. "Make Me Cry" – Noah Cyrus feat. Labrinth
4. "Rockabye" – Clean Bandit feat. Anne-Marie & Sean Paul
3. "Paris" – The Chainsmokers
2. "Fake Love" – Drake
1."Shape of You" – Ed Sheeran
Seven nights and there is still no stopping Ed Sheeran, "Shape of You" remains the one to beat! Please remember you can help determine the outcome by casting your ballot each and every weeknight from 5-7:30 PM. Just be sure to get in your vote by either calling 217-844-HITS, texting 217-218-0288, or leaving your vote at The Party's Facebook Page!