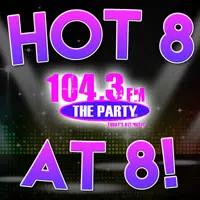 Happy Monday! Hope you had a fantastic and fun filled weekend and now that it's back to The Night Club with Carman, of course that means the Hot 8@8 Countdown with Smoky's House BBQ in Charleston comes with it! Now for the past 9 nights on the show the song to beat has been "Shape of You" from Ed Sheeran, can he go for a 10th night stay and start the new week off strong? Check out what you helped determine tonight, also after all last week of having no new entries, we have one kicking us off tonight at #8!
8. "That's What I Like" – Bruno Mars (Debut!)
7. "Say It" – Flume feat. Tove Lo
6. "Make Me Cry" – Noah Cyrus feat. Labrinth
5. "I Got You" – Bebe Rexha
4. "Rockabye" – Clean Bandit feat. Anne-Marie & Sean Paul
3. "Fake Love" – Drake
2. "Paris" – The Chainsmokers
1."Shape of You" – Ed Sheeran
10 nights in a row indeed! Now while tomorrow is only the second show of the week, it will be the last show for January, so if you would like Ed to remain in power please remember you can help determine the outcome! Please cast your ballot each and every weeknight from 5-7:30 PM by calling 217-844-HITS, texting 217-218-0288, or leaving your vote at The Party's Facebook Page!