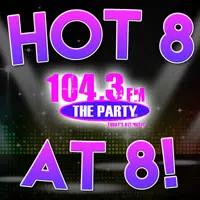 Happy Tuesday! As crazy as it is to think about, we've made it through the first month of 2017! It may be the second Hot 8@8 Countdown with Smoky's House BBQ in Charleston for the week, but it's the final one for January so it's very crucial to see what song will take #1 to close out the month. All January only two songs have seen the #1 light, first it was "I Don't Wanna Live Forever" from Zayn and Taylor Swift and then, and currently, "Shape of You" from Ed Sheeran. Can Ed go for another night and 11 nights in a row at the top? Check out what you helped determine below….
8. "Say It" – Flume feat. Tove Lo
7. "That's What I Like" – Bruno Mars
6. "I Got You" – Bebe Rexha
5. "Make Me Cry" – Noah Cyrus feat. Labrinth
4. "Rockabye" – Clean Bandit feat. Anne-Marie & Sean Paul
3. "Fake Love" – Drake
2. "Paris" – The Chainsmokers
1. "Shape of You" – Ed Sheeran
Well, 11 nights indeed and a solid spot to be in for the end of January! If you would like to see Ed stay in place and start off a good February, please remember you have the power to do so! Please be sure to cast your ballot each and every weeknight beginning at 5 PM. Call 217-844-HITS, text 217-218-0288, or leaving your vote at The Party's Facebook Page!