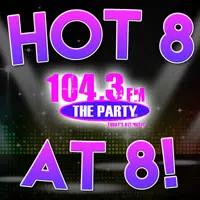 Happy Wednesday and February 1st!!! Where did the first month of 2017 go?! Anyways you're back here for another night of The Night Club with Carman and with it of course comes your mid-point Hot 8@8 Countdown with Smoky's House BBQ in Charleston! For 11 nights in a row now Ed Sheeran remains the one to beat with "Shape of You", can he go a 12th night at the top and start the new month off strong? Check out your results and also excited to say we have one new track as well!
8. "Thumbs" – Sabrina Carpenter (Debut!)
7. "That's What I Like" – Bruno Mars
6. "I Got You" – Bebe Rexha
5. "Rockabye" – Clean Bandit feat. Anne-Marie & Sean Paul
4. "Make Me Cry" – Noah Cyrus feat. Labrinth
3. "Paris" – The Chainsmokers
2. "Fake Love" – Drake
1." Shape of You" – Ed Sheeran
12 nights and counting! Still no slowing down Sheeran! Please remember you help determine the outcome each and every weeknight by casting your vote and telling us what new song is your favorite! Voting is open Monday through Friday from 5-7:30 PM, just be sure to call 217-844-HITS, text 217-218-0288, or leave your vote at The Party's Facebook Page!