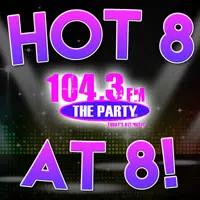 Happy Monday! Hopefully you are recovering nicely from the big game yesterday, but now that's it's back to another work week, here on the Party it means more Night Club with Carman and it's not the night club without The Hot 8@8 Countdown with Smoky's House BBQ in Charleston! It's your Monday edition, and in case you need a little refresher from where we saw the songs Friday Night, still the song to beat is Ed Sheeran and "Shape of You." If it goes another night at the top that will mark it's 15th night in a row! Check out what your votes helped decide and also we have one new song getting us started tonight!
8. "Say You Won't Let Go" – James Arthur (Debut!)
7. "Fake Love" – Drake
6. "Issues" – Julia Michaels
5. "Rockabye" – Clean Bandit feat. Anne-Marie & Sean Paul
4. "Make Me Cry" – Noah Cyrus feat. Labrinth
3. "That's What I Like" – Bruno Mars
2. "Paris" – The Chainsmokers
1."Shape of You" – Ed Sheeran
Ed still proving to be victorious! Another night he spends indeed. Please remember each and every weeknight you can help decide what songs make the cut, simply cast your vote anytime between 5-7:30 PM and you can do so by either calling 217-844-HITS, texting 217-218-0288, or leaving your vote at The Party's Facebook Page!