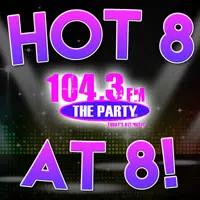 It's Tuesday and time for another round of the Hot 8@8 Countdown with Smoky's House BBQ in Charleston all part of The Night Club with Carman! Still the song to beat is none other than "Shape of You" from Ed Sheeran, can he go 16 nights in a row at the top? Check out what your votes helped decide and also one re-entry on the show tonight as well!
8. "Thumbs" – Sabrina Carpenter (Re-Entry!)
7. "Say You Won't Let Go" – James Arthur
6. "Rockabye" – Clean Bandit feat. Anne-Marie & Sean Paul
5. "Issues" – Julia Michaels
4. "Make Me Cry" – Noah Cyrus feat. Labrinth
3. "That's What I Like" – Bruno Mars
2. "Paris" – The Chainsmokers
1."Shape of You" – Ed Sheeran
16 nights and Ed is not giving up his crown just yet! Please remember you have the power each and every weeknight to help determine the outcome! Please be sure to cast your ballot starting at 5 PM by either calling 217-844-HITS, texting 217-218-0288, or leaving your vote at The Party's Facebook Page!