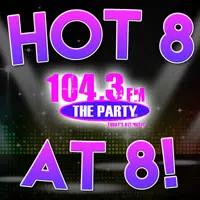 Welcome to your mid-point Hot 8@8 Countdown with Smoky's House BBQ in Charleston all part of The Night Club with Carman! For the past 5 nights the song to beat has been "Paris" from The Chainsmokers, can the duo go a 6th night and continue their dominance? Check out tonight's results and tonight we see no new entries either….
8. "Make Me Cry" – Noah Cyrus feat. Labrinth
7. "Say You Won't Let Go" – James Arthur
6. "Everyday" – Ariana Grande feat. Future
5. "Call on Me" – Starley
4. "Down" – Marian Hill
3. "Issues" – Julia Michaels
2. "That's What I Like" – Bruno Mars
1."Paris" – The Chainmsokers
I'm guessing "Paris" must be lovely this time of year, because it's still not straying from the top spot on the countdown! Please remember you can help determine what songs make the cut each and every weeknight when voting opens at 5 PM and remains open until 7:30 PM. Just remember to either call 217-844-HITS, text 217-218-0288, or leave your vote at The Party's Facebook Page!