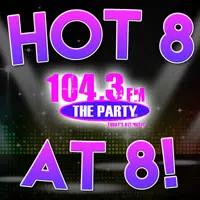 Finally Friday, and a gorgeous one it has been! Makes you wonder if we are actually in February?! The nice weather continues into the weekend and kicking it all off is The Night Club with Carman! Of course it's not a complete show without getting to some of the hottest new singles with The Hot 8@8 Countdown with Smoky's House BBQ in Charleston! Now last night we saw a brand new song reach #1 and it belonged to a newcomer to boot…"Issues" from Julia Micheals is the song to beat tonight! Check out what your votes helped decide….
8. "Call On Me" – Starley
7. "Everyday" – Ariana Grande feat. Future
6. "Say You Won't Let Go" – James Arthur
5. "Chained to the Rhythm" – Katy Perry feat. Skip Marley
4. "Down" – Marian Hill
3. "That's What I Like" – Bruno Mars
2. "Paris" – The Chainsmokers
1."Issues" – Julia Michaels
Two nights and Julia is still the champ on the countdown! She'll head into the weekend in a good spot, but can she hold onto it when the show continues on Monday Night??? Please remember you help decide, be sure to cast your vote weekdays from 5-7:30 PM by either calling 217-844-HITS, texting 217-218-0288, or leaving your vote at The Party's Facebook Page!