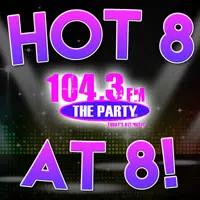 Happy Monday! Hope you had a fun filled weekend, but now that it's back to another work week, once again it's time for The Night Club with Carman and The Hot 8@8 Countdown with Smoky's House BBQ in Charleston! A little refresher from where we left the show on Friday night…for the second night in a row it was Marian Hill and her debut single "Down" can she hold on and start a fresh week off in the same spot? See what you helped determine below and also one new song makes it's way onto the show as well!
8. "Cold" – Maroon 5 feat. Future
7. "It Ain't Me" – Kygo feat. Selena Gomez (Debut!)
6. "Say You Won't Let Go" – James Arthur
5. "Call on Me" – Starley
4. "Everyday" – Ariana Grande feat. Future
3. "Issues" – Julia Michaels
2. "Chained to the Rhythm" – Katy Perry feat. Skip Marley
1."Down" – Marian Hill
A new week, but no new #1, Marian holds on for another night! Now remember, last week we saw three different songs reach the #1 mark, anything can happen because you have the power to be in control of the results. Please be sure to cast your vote for your favorite new single by voting from 5-7:30 PM weekdays. You can always call 217-844-HITS, text 217-218-0288, or leave your vote at The Party's Facebook Page!