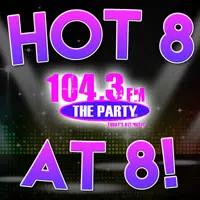 Happy Monday! Hope your extended 4th of July Holiday weekend is going great thus far and you're getting set for a fun filled America Birthday Party tomorrow! However, right now it's a brand new week and Monday night here in The Night Club with Carman, we're back into another round of The Hot 8@8 Countdown with Smoky's House BBQ in Charleston! A quick refresher from where we left the show on Friday night, for the third night "Malibu" from Miley Cyrus was your top song, can she go a 4th tonight and start the month of July off strong? See what you helped determine and we also have 2 new entries tonight too!
8. "Wild Thoughts" – DJ Khaled feat. Rihanna & Bryson Tiller (Debut!)
7. "Versace on the Floor" – Bruno Mars (Debut!)
6. "I'm the One" – DJ Khaled feat. Justin Bieber & Chance the Rapper
5. "Down" – Fifth Harmony feat. Gucci Mane
4. "Strip That Down" – Liam Payne feat. Quavo
3. "Crying in the Club" – Camila Cabello
2. "2 U" – David Guetta feat. Justin Bieber
1."Malibu" – Miley Cyrus
"Malibu" must be nice this time of year, because Miley just went a consecutive 4th night #1 on the show!!! Now we will take a break from the show for tomorrow to celebrate the 4th of July, but when we pick things back up on Wednesday, be sure to vote once more. Voting is open from 5-7:30 p.m. and you can cast your vote by either calling 217-844-HITS, texting 217-218-0288, or leaving your vote at The Party's Facebook Page!
Have a safe and fun filled 4th of July Celebration!!! 🙂