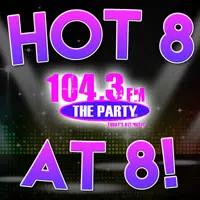 Already Thursday, another week just flying by way to quickly! However, Thursday means it's time for some Throwback Thursday fun here in The Night Club with Carman and your weeknight tradition the Hot 8@8 Countdown with Smoky's House BBQ in Charleston! Of course for Pop Culture Trivia an old school retro-rewind will be spun backwards, but first we have to count down the songs! Last night for the 5th time, "Malibu" by Miley Cyrus took our top spot yet again, can she go a 6th night tonight? See what your votes helped decide!
8. "Feels" – Calvin Harris feat. Pharrell Williams, Katy Perry & Big Sean
7. "Strip That Down" – Liam Payne feat. Quavo
6. "Versace on the Floor" – Bruno Mars
5. "Down" – Fifth Harmony feat. Gucci Mane
4. "Wild Thoughts" – DJ Khaled feat. Rihanna & Bryson Tiller
3. "Crying in the Club" – Camila Cabello
2. "2 U" – David Guetta feat. Justin Bieber
1."Malibu" – Miley Cyrus
That marks a 6th night in a row now for the latest from Miley! If she goes a 7th night and closes out another Friday at #1 tomorrow, please remember you help decide. Please be sure to cast your ballot from 5-7:30 p.m.  by either calling 217-844-HITS, texting 217-218-0288, or leaving your vote at The Party's Facebook Page!