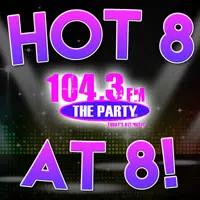 It's Hump Day!!! Happy Wednesday and welcome back to The Night Club with Carman and another round of The Hot 8@8 Countdown with Smoky's House BBQ in Charleston! So far this week the songs have been fairly consistent, but that could always change. See what your votes helped determine tonight and if "2 U" will be number one for the 4th time…..
8. "Down" – Fifth Harmony feat. Gucci Mane
7. "Malibu" – Miley Cyrus
6.  "Most Girls" – Hailee Steinfeld
5. "Strip That Down" – Liam Payne feat. Quavo
4. "Versace on the Floor" – Bruno Mars
3. "Feels" – Calvin Harris feat. Pharrell Williams, Katy Perry, & Big Sean
2. "Wild Thoughts" – DJ Khaled feat. Rihanna & Bryson Tiller
1."2 U" – David  Guetta feat. Justin Bieber
That marks a grand total of 4 nights now for David & the Biebs! It's still too early to tell if this song could vie for a record on the show for the year, but you can help keep it on that track by simply casting your ballot. Please be sure to do so weeknights from 5-7:30 p.m. by either calling 217-844-HITS, texting 217-218-0288, or leaving your vote at The Party's Facebook Page!