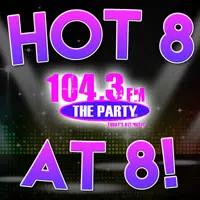 Finally FRIDAY!!! Get set for an awesome weekend and kicking it all off is The Night Club with Carman and your final Hot 8@8 Countdown for the week of July 31st-August 4th with Smoky's House BBQ in Charleston! Now all this week, one song has been the one to beat on the show "Feels" from Calvin Harris, with Pharrell, Katy, & Big Sean. Can the three man, one woman quartet go a solid week, 5 nights straight, on the show tonight? No new entries tonight, but check out what you helped determine….
8. "Get Low" – Zedd feat. Liam Payne
7. "Congratulations" – Post Malone feat. Quavo
6. "Wild Thoughts" – DJ Khaled feat. Rihanna & Bryson Tiller
5. "Honest" – Chainsmokers
4. "Unforgettable" – French Montana feat. Swae Lee
3. "Redbone" – Childish Gambino
2. "Praying" – Ke$ha
1."Feels" – Calvin Harris feat. Pharrell Williams, Katy Perry, & Big Sean
It does indeed, a solid 5th night in a row being at the top of the countdown! Please remember when the countdown picks back up on Monday night you have the power in how the songs fall. Please cast your vote Monday through Friday from 5-7:30 p.m. CDT by either calling 217-844-HITS, texting 217-218-0288, or by leaving your vote at The Party's Facebook Page!