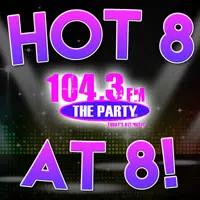 Happy Monday! Hope you had a fantastic weekend and welcome back to another week here in The Night Club with Carman! Now it's only fitting we kick off the week with another round of The Hot 8@8 Countdown with Smoky's House BBQ in Charleston! Now when we left the show on Friday night, a little Monday night refresher, Calvin Harris was #1 for the 5th straight night with "Feels", can he go a 6th and start another week off strong? See what you helped decide, one new entry tonight as well!
8. "Congratulations" – Post Malone feat. Quavo
7. "Sorry, Not Sorry" – Demi Lovato (Debut!)
6. "Get Low" – Zedd feat. Liam Payne
5. "Unforgettable" – French Montana feat. Swae Lee
4. "Honest" – Chainsmokers
3. "Redbone" – Childish Gambino
2. "Feels" – Calvin Harris feat. Pharrell Williams, Katy Perry, & Big Sean
1. "Praying" – Ke$ha
Last week I called it the song to watch, and tonight it makes its way to #1 for the first time! Ke$ha is back and hotter than ever with her newest single "Praying" it knocks Calvin Harris down one tonight! Please remember to keep it or change it, you can help decide. Please be sure to cast your vote every weeknight by either calling 217-844-HITS, texting 217-218-0288, or by leaving your vote at The Party's Facebook Page!