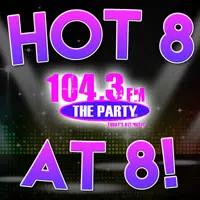 It's Tuesday and time for your second Hot 8@8 Countdown for the week with Smoky's House BBQ in Charleston all part of The Night Club with Carman!!! Now last night was kind of an exciting night to start the week off, for we saw a brand new song reach the top spot…"Praying" by Ke$ha! Can she go a second straight night at #1? Check out Tuesday's results below and one new entry tonight as well…..
8. "Fetish" – Selena Gomez feat. Gucci Mane (Debut!)
7. "Sorry, Not Sorry"  – Demi Lovato
6. "Get Low" – Zedd feat. Liam Payne
5. "Honest" – Chainsmokers
4. "Unforgettable" – French Montana feat. Swae Lee
3. "Feels" – Calvin Harris feat. Pharrell Williams, Katy Perry, & Big Sean
2. "Redbone" – Childish Gambino
1."Praying"- Ke$ha
Ke$ha continues "Praying" and it stays in tact tonight! The second night in a row for it to top our nightly countdown! Please remember you have a say in helping rank the newest songs. Please remember to cast your ballot weeknights from 5-7 p.m. CDT by either calling 217-844-HITS, texting 217-218-0288, or by leaving your vote at The Party's Facebook Page!