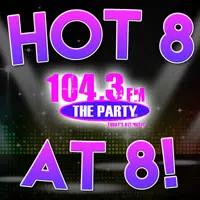 Happy Hump Day! Wednesday upon us again and once again here in The Night Club with Carman, it's another go round of the Hot 8@8 Countdown with Smoky's House BBQ in Charleston! Now this week Ke$ha has been the song to beat for her recent single "Praying" has been the top song for the past two nights, will she go 3 tonight? See below….
8. "Congratulations" – Post Malone feat. Quavo (Re-Entry!)
7. "Get Low" – Zedd feat. Liam Payne
6. "Sorry, Not Sorry" – Demi Lovato
5. "Feels" – Calvin Harris feat. Pharrell Williams, Katy Perry, & Big Sean
4. "Unforgettable" – French Montana feat. Swae Lee
3. "Honest" – Chainsmokers
2. "Redbone" – Childish Gambino
1."Praying" – Ke$ha
The "Praying" is paying off, because three nights at the top she goes! Please remember every weeknight from 5-7:30 p.m. CDT you can help decide the outcome, simply cast your vote for your favorite new single by calling 217-844-HITS, texting 218-0288, or leaving your vote at the Party's Facebook Page!