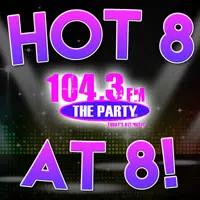 Welcome back to The Night Club with Carman and another go around of the Hot 8@8 Countdown with Smoky's House BBQ in Charleston! Now it happens to be Thursday, so that means some throwback fun for Pop Culture Trivia; we'll reverse an old school favorite for your chance at a free Sandwich to Smoky's! However, first we have to count down the hits and the past three nights, Ke$ha has been the one to beat with "Praying", see if she goes four nights below….
8. "Congratulations" – Post Malone feat. Quavo
7. "Fetish" – Selena Gomez feat. Gucci Mane (Re-Entry!)
6. "Sorry, Not Sorry" – Demi Lovato
5. "Get Low" – Zedd feat. Liam Payne
4. "Redbone" – Childish Gambino
3. "Unforgettable" – French Montana feat. Swae Lee
2. "Honest" – Chainsmokers
1."Praying" – Ke$ha
Ke$ha is back and stronger than ever! "Praying" remains strong another night on the show. Please remember every weeknight from 5-7:30 p.m. CDT you can cast your vote for your favorite new track. Just simply call 217-844-HITS, text 217-218-0288, or leave your vote at The Party's Facebook Page!