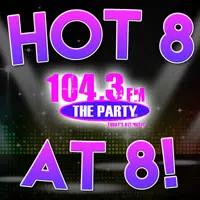 Happy Monday! Hope you had a fantastic weekend and kicking off the brand new week is of course, another night here in The Night Club with Carman and a fresh Hot 8@8 Countdown with Smoky's House BBQ in Charleston!!! A little refresher from where we left things on Friday night for the 5th night in a row, a solid week, Ke$ha has been dominate in the #1 spot with "Praying", can she kick off Monday just as strong??? See what you helped decide below, also for Monday night 2 new entries as well!
8. "Hoodie" – Hey Violet (Debut!)
7. "Feel It still" – Portugal the Man (Debut!)
6. "Fetish" – Selena Gomez feat. Gucci Mane
5. "Sorry, Not Sorry" – Demi Lovato
4. "Get Low" – Zedd feat. Liam Payne
3. "Unforgettable" – French Montana feat. Swae Lee
2. "Honest" – Chainsmokers
1."Praying" – Ke$ha
The "Praying" is paying off for a 6th night she goes unstoppable! Every weeknight you help decide the outcome with the show, voting will open once more tomorrow from 5-7 p.m. CDT so please cast your vote by either calling 217-844-HITS, texting 217-218-0288, or leaving your vote at The Party's Facebook Page!