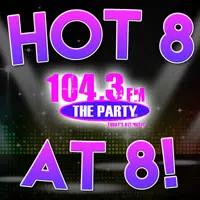 Happy Thursday, Throwback Thursday! Welcome back to The Night Club with Carman and another round of The Hot 8@8 Countdown with Smoky's House BBQ in Charleston! Now given the day of the week, when Pop Culture Trivia rolls around, we will have another old school song spun backwards for your chance at free grub to Smoky's. Will "Praying" from Ke$ha take the top spot once more and go a 9th night #1? See what you helped decide below….
8. "Hoodie" – Hey Violet
7. "Feel It Still" – Portugal the Man
6. "Unforgettable" – French Montana feat. Swae Lee
5. "Fetish" – Selena Gomez feat. Gucci Mane
4. "Sorry, Not Sorry" – Demi Lovato
3. "Get Low" – Zedd feat. Liam Payne
2. "Honest" – Chainsmokers
1."Praying" – Ke$ha
That marks a grand total of 9 nights in a row for Ke$ha at the top of our countdown! Could be a big night tomorrow if she can go 10 nights and close out 2 weeks in a row #1….please remember you can help determine the outcome. Weeknights be sure to cast your vote from 5-7:30 p.m. CDT by either calling 217-844-HITS, texting 217-218-0288, or by leaving your vote at The Party's Facebook Page!