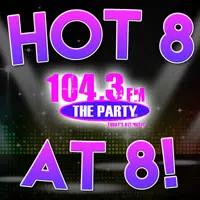 It's Throwback Thursday! Welcome back to another round of the Hot 8@8 Countdown with Smoky's House BBQ in Charleston all part of The Night Club with Carman! Now given the day of the week…it's time for a Throwback Thursday edition of the countdown which means we will have an old-school favorite spun backwards for Pop Culture Trivia, but first we have to count them down and last night we saw a new song reach #1…Chainsmokers with "Honest" will Alex and Drew go a 2nd night? See what you helped decide tonight….
8. "Get Low" – Zedd feat. Liam Payne (Re-Entry!)
7. "What About Us" – Pink
6. "Back to You" – Louis Tomlinson feat. Bebe Rexha
5. "Feel It Still" – Portugal  the Man
4. "Fetish" – Selena Gomez feat. Gucci Mane
3. "Sorry, Not Sorry" – Demi Lovato
2. "Praying" – Ke$ha
1."Honest" – Chainsmokers
That marks a second night for sure! Will "Honest" go a 3rd night tomorrow and close out the week strong? Please remember you can help determine the outcome weeknights, cast your votes from 5-7:30 p.m. CDT by either calling 217-844-HITS, texting 217-218-0288, or leaving your vote at The Party's Facebook Page!