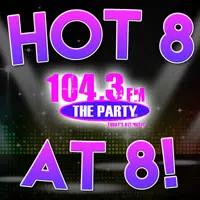 It's Monday!!! Hope you had a fantastic weekend and welcome back to The Night Club with Carman and your first for the week:The Hot 8@8 Countdown with Smoky's House BBQ in Charleston! Now Friday night we saw Chainsmokers with "Honest" take the top spot for the 3rd night in a row, will Alex and Drew start the week off strong once again? See your votes and tonight we have two new entries both debuting fairly high….check it out!
8. "Back to You" – Louis Tomlinson feat. Bebe Rexha
7. "Friends" – Justin Bieber feat. Bloodpop (Debut!)
6. "Fetish" – Selena Goemez feat. Gucci Mane
5. "Look What  You Made Me Do" – Taylor Swift (Debut!)
4. "Feel It Still" – Portugal the Man
3. "What About Us" – Pink
2. "Honest" – Chainsmokers
1. "Sorry, Not Sorry" – Demi Lovato
Wow, that's a lot of shuffling tonight! A high debut for the new ones for Beiber and Swift and a new #1!!! Demi Lovato takes over #1 for the first time with "Sorry, Not Sorry!" Please remember every weeknight you can help determine the outcome of the songs, please be sure to cast your ballots from 5-7:30 p.m. CDT by either calling 217-844-HITS, texting 217-218-0288, or by leaving your vote at  The Party's Facebook Page!