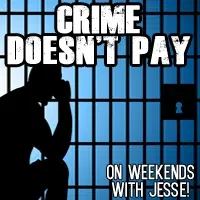 An American Airlines flight from Dallas to Detroit had to make an emergency landing back on February 1st, because there was a fire in one of the bathrooms!
Luckily a 23-year-old flight attendant named Johnathan Tafoya-Montano was able to put it out with a fire extinguisher, and no one was hurt.  And for a minute he was probably in line for a raise.  There was only one problem.
The FBI arrested him on Tuesday, because it turns out he STARTED the fire . . . just so he could put it out and look like a hero.
He lit some paper towels with a lighter, put the flames out, then left them smoldering.  Then he stood outside the door and waited a few minutes . . . pretended to find the fire . . . and declared an emergency.
Then he got on the phone with the pilot and let him know he handled it.  But the tower had already cleared them for an emergency landing at that point.
Investigators were able to verify that no one else had used the bathroom for 15 minutes before the fire started, so Jonathan confessed.
He's facing charges for the destruction of aircraft facilities and giving false statements to police.  And he's not allowed to fly for now, unless a judge approves it.
(Source:
~ Jesse