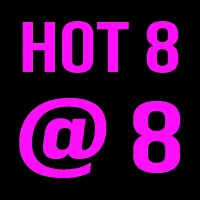 Welcome to another night of the Hot 8@8 Countdown! No new entries tonight, but is Meghan Trainor still #1??? Find out below….
8. Cheap Thrills – Sia feat. Sean Paul
6. You Don't Own Me – Grace feat. G-Easy
5. Work From Home – Fifth Harmony feat. Dolla $ign
4. Dangerous Woman – Ariana Grande
3. New Romantics – Taylor Swift
2. Rock Bottom – Hailee Steinfeld feat. DNCE
You keep saying yes to "No!" Meghan takes #1 for the 5th time consecutively! You decide where your favorite new songs fall so be sure to cast your vote every weeknight starting at 5 PM. You can vote by calling 217-844-HITS, texting 217-218-0288. or leaving your vote at the Party's Facebook page!