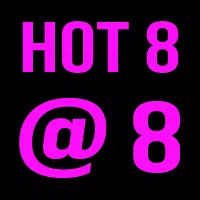 Half-way through the week already?! Either way it's Wednesday and it's another night of the Hot 8@8 Countdown! Excited to say we have one new entry tonight, but do we have a new #1??? Find out below….
8. Colors – Halsey (Debut!)
7. Cheap Thrills – Sia feat. Sean Paul
6. You Don't Own Me – Grace & G-Easy
5. Work From Home – Fifth Harmony feat. Dolla $ign
4. Dangerous Woman – Ariana Grande
3. Rock Bottom – Hailee Steinfeld feat. DNCE
2. New Romantics – Taylor Swift
1. No – Meghan Trainor
Still no stopping Meghan Trainor! For the 6th night in a row she takes the top spot! Be sure to cast your ballot every weeknight starting at 5 PM by calling 217-844-HITS, texting 217-218-0288, or leaving your vote at the Party's Facebook page!