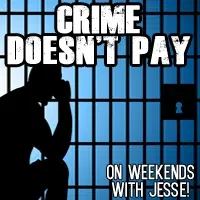 A cop outside Tampa, Florida noticed a truck with a cracked windshield on Tuesday, and tried to pull it over.  The driver was a 46-year-old guy named Christopher Conti, and first he motioned with his hand like he WAS pulling over.
But he took off . . . did a U-turn while running a red light . . . ran over a spike strip, and kept going.  Then, he did finally stop; but only for a few seconds so he could smoke some CRACK.
The cop saw him sitting in a turning lane with a glass pipe.  Then he drove over the median, kept driving on a flat tire, and ended up ramming two cop cars.  Luckily no one was hurt, and they did manage to stop him.
Then while they were arresting him, he said he was, quote, "out of [his] mind" on drugs.  And once they had him in custody, he asked if they'd make SURE their report included that he was, quote, "cranked out of [his] [effing] mind.
Apparently he thought a judge might go easier on him if they knew that.  But he has a rap sheet that's 30 pages long, and he's tried to run from the cops before.
He's facing charges for assault, battery, fleeing and eluding police, driving on a suspended license, possession of cocaine, possession of paraphernalia, and driving under the influence.  This guy should at least get an award for having so many charges!
~ Jesse
Find out why crime doesn't pay every weekend on 104.3 The Party!