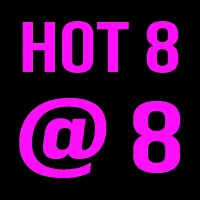 Happy Monday, Hope you had a Great Easter Weekend!!! Now that the new week has started of course it means the return of the Hot 8@8 Countdown! Excited to say we have one new entry tonight, but do we have a new #1? When we left the countdown Friday, Meghan Trainor took the top spot for the 8th time! Find out below if she went for 9…..
8. Never Be Like You – Flume feat. Kai (Debut!)
7. New Romantics – Taylor Swift
6. Victorious – Panic! At the Disco
4. Don't Let Me Down – Chainsmokers feat. Daya
3. You Don't Own Me – Grace feat. G-Easy
2. Dangerous Woman – Ariana Grande
9 times and counting! Meghan still takes #1 thanks to your votes! You choose where the songs fall, so be sure to vote every single weeknight starting at 5 PM. Vote by calling 217-844-HITS, texting 217-218-0288, or leaving your vote at the Party's Facebook page!