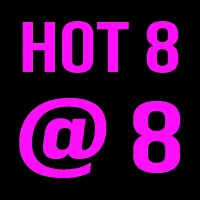 Happy Tuesday! Another night of the Hot 8@8 Countdown coming at you and we have a another new entry tonight! You have been voting since 5 PM so find out where the songs fell tonight!
8. Die a Happy Man – Nelly (Debut!)
7. Never Be Like You – Flume feat. Kai
5. You Don't Own Me – Grace feat. G-Easy
4. Victorious – Panic! At the Disco
3. Don't Let Me Down – Chainsmokers feat. Daya
2. Dangerous Woman – Ariana Grande
Meghan has officially held on to #1 for the 10th time tonight, making "No" the longest running song at the top for 2016!!!…So far anyways. You decide where they fall so be sure to cast your ballot every single weeknight starting at 5 PM. Vote by calling 217-844-HITS, texting 217-218-0288, or leaving your vote at the Party's Facebook page!