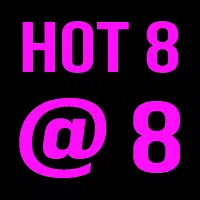 Happy Monday! Welcome back to another week of the Hot 8@8 Countdown with Smoky's House of BBQ in Charleston! When we left the countdown on Friday, Meghan Trainor was still dominating the top spot with "No", has she managed to steal the top spot again, or has something new dethroned her reign??? Find out below….also excited to say we have two new entries tonight!
8. Team – Iggy Azalea (Debut!)
7. Stone Cold – Demi Lovato (Debut!)
5. Close – Nick Jonas feat. Tove Lo 
4. Victorious – Panic! At the Disco
3. Don't Let Me Down – Chainsmokers feat. Daya
2. Dangerous Woman – Ariana Grande
"No" still earning your votes to come in at #1, that's the 14th time in a row now! You decide where the songs fall, so be sure to cast your vote every single weeknight starting at 5 PM by calling 217-844-HITS, texting 217-218-0288, or leave your vote at the Party's Facebook page!