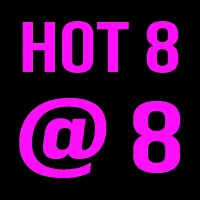 Thursday already?! It's your second to last Hot 8@8 Countdown with Smoky's House of BBQ for the week and like always votes have been coming in since 5 PM!  Excited to say we have a re-entry tonight, but a new #1???? Find out below….
8. Kiss It Better – Rihanna (Re-Entry!)
7. Messin' Around – Pitbull feat. Enrique Iglesias 
5. Close – Nick Jonas feat. Tove Lo
4. One Dance – Drake feat. Wiz Kid
3. If It Ain't Love – Jason Derulo
1. Dangerous Woman – Ariana Grande
For the 4th night in a row, Ariana take the #1 spot with her latest! Remember, your votes decide where they fall so be sure to cast your vote every single weeknight starting at 5 PM! Call 217-844-HITS, text 217-218-0288, or  leave your request at The Party's Facebook page!