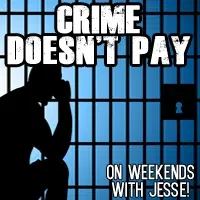 You've gotta follow the rules of the road people.  Especially if you're in the middle of doing something highly illegal . . .
A guy named Alejandro Perez was driving a moving truck near Atlanta on Monday, when he blew through a stop sign, and started heading down the wrong side of the road.  (We're not sure how old he is, but he looks about 30.)
So a cop pulled him over, and took him into custody when it turned out he didn't have a driver's license.
Unfortunately for Alejandro that's the least of his worries.  Because the cops asked him what was in the truck, and he claimed he didn't know.
But when they opened it up, they found out he was hauling around 4,000 POUNDS of marijuana . . . that's worth just under $2 million.
It was divided into 169 bricks that weighed about 23 pounds each.  Medical marijuana is legal in Georgia now, but the cops said they're pretty sure that much weed WASN'T for "personal use."
So Alejandro's facing charges for drug trafficking.