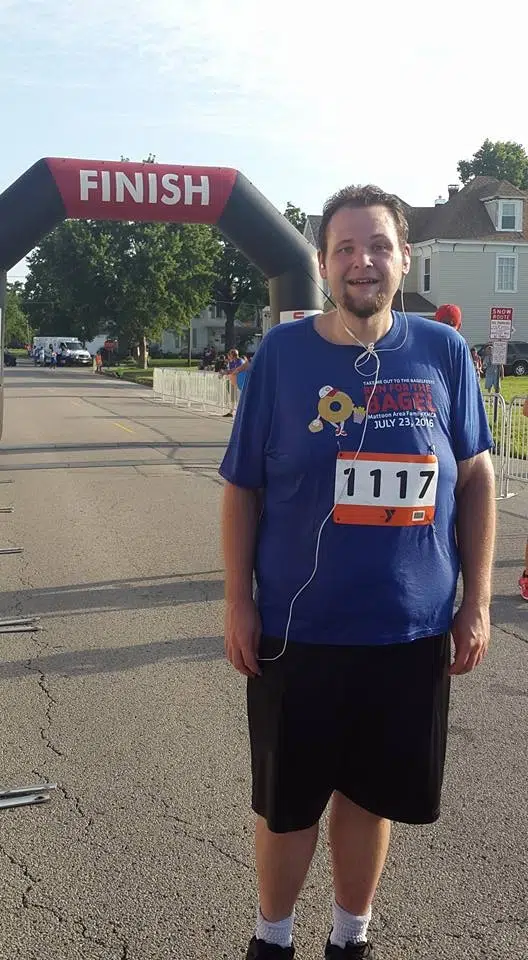 Hey everyone! Hot enough for ya? I really hope the seemingly annual summer heatwave is behind us for good, because it's especially difficult to try to keep up my exercise level by running outside when it's hot enough to fry an egg on the sidewalk.
Also, now that I'm a homeowner and responsible for keeping my yard mowed, that's something else I'd really rather not be doing in a triple-degree heat index.
But on to happier news! With Bagelfest having taken place last weekend, I competed in my second ever 10K during the annual "Run for the Bagel" race. Despite it being really early in the morning (a 6:30am start time) and still being quite hot by the time we finished, I managed to not only complete it, but I shaved 4 minutes off of my best time for a 10K! This is a phenomenal experience for me, being someone who just a year ago would have been unable to even walk half a mile, let along run 6.2 miles.
The way my life continues to change for the better ever since I took the plunge and started my HMR journey never fails to amaze me. I also think it's funny that my two 10K experiences were complete opposites. The first I did in Champaign back in April was freezing cold and raining the whole time and this time it was blazing hot and sunny. I guess nature is just against me running in favorable conditions. But hey, it's all character building, right?
I continue to work with Phase 2 of the HMR program which focuses on maintaining my current weight, as that is one of the real dangers with weight loss, backsliding and regaining the weight you worked so hard to lose in the first place. Despite some minor see-sawing and weight fluctuations of 10-15 pounds up or down, I'm doing fairly well in keeping my weight right where I want it to be. A success I owe in no small part to continuing to attend my weekly HMR meetings and getting the support and friendship of others in the program who are in the same position I am and striving to keep the weight off, as well as getting helpful advice and strategies to try to achieve exactly that.
Well, that about does it for this time. Thanks for reading. I'll keep my fingers crossed that my next 10K (because you KNOW I am going to keep doing them) will be actually comfortable running weather.
-Tim