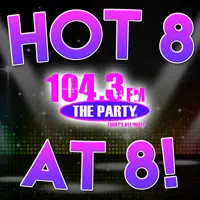 Another work week is upon us, and Monday always means the return for another week of the Hot 8@8 Countdown with Smoky's House BBQ in Charleston!!! When we wrapped up Friday's show Kungs vs. Cookin' on 3 Burners with "This Girl" took the top spot for the 3rd night in a row, find out below to see if your votes put them there again, or something new has taken over….also one debut single tonight as well!
8. Girls Like – Tinie Tempah feat. Zara Larson (Debut!)
7. Starving – Hailee Steinfeld feat. Grey & Zedd
4. Too Good – Drake feat. Rihanna
3. I Hate You, I Love You – Gnash feat. Olivia O'brian
2. This Girl – Kungs vs. Cookin' on 3 Burners
1. Closer – Chainsmokers feat. Halsey 
After slipping to #2 the past three shows, Chainsmokers and Halsey reclaim the top spot!!! When it reached the top spot the first time around it spent 6 nights in a row there, can it hold on for the same length, remember your votes help decide…Please VOTE! Voting opens at 5 PM every single weekday, so call 217-844-HITS, text 217-218-0288, or leave your request at The Party's Facebook Page!