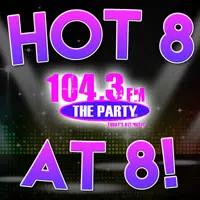 Happy Hump Day! Already Wednesday and the final Hot 8@8 Countdown with Smoky's House BBQ in Charleston for August…How crazy is that!? Only 4 months remain for 2016!…Anyway's what has your votes helped place on the show tonight? Find out below and also no new entries tonight either…..
8. Wild – Troye Sivan feat. Alessia Cara 
7. Girls Like – Tinie Tempah feat. Zara Larson 
6. Starving – Hailee Steinfeld feat. Grey & Zedd
5. I Hate You, I Love You – Gnash feat. Olivia O'brian 
3. This Girl – Kungs vs. Cookin' on 3 Burners
2. Too Good – Drake feat. Rihanna 
1. Closer – Chainsmokers feat. Halsey 
The Chainsmokers take #1 again for the 3rd time this week, 9th time in total for our show!!! If you want to see them along with Halsey start September strong, remember you can help determine the outcome…Please VOTE! Voting opens up every single weeknight beginning at 5 PM, please call 217-844-HITS, text 217-218-0288, or leave your request at The Party's Facebook Page! ….Also what Do you thing of our new logo's for the show???