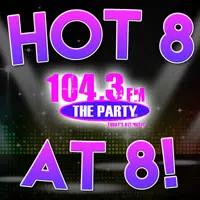 Hope you had a fantastic weekend and it's Monday so you know what that means, time for another week of the Hot 8@8 Countdown with Smoky's House BBQ in Charleston!!! Tonight is the first show for October as well! A little refresher of where we left the show on Friday, for the third week in a row, 15 night consecutively, Twenty-One Pilots took the top spot with "Heathens", can they go for 16 nights? Find out below to see where your votes helped place the songs tonight also we have a pretty high debut on the show tonight as well….
8. "I Hate You, I Love You" – Gnash feat. Olivia O'brian 
7. "Side to Side" – Ariana Grande feat. Nicki Minaj 
6. "The Greatest" – Sia feat. Kendrick Lamar 
5. "Starboy" – The Weeknd feat. Daft Punk (debut!)
4. "Perfect Illusion" – Lady Gaga 
2. "Let Me Love You" – DJ Snake feat. Justin Bieber 
1. "Heathens" – Twenty-One Pilots 
While we defiantly had a lot of huge leaps for some of your favorite new singles tonight, still no shaking are reigning #1….the duo make it at #1 again! Please remember to keep it or change it you got to be sure to vote. Please call 217-844-HITS, text 217-218-0288, or leave your request at The Party's Facebook Page!