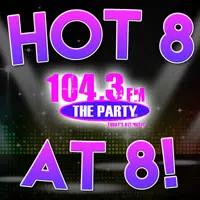 Happy Tuesday! Welcome to another night of the Hot 8@8 Countdown with Smoky's House BBQ in Charleston! Last night we saw a fairly high debut on the show plus the reigning at #1, Twenty-One Pilots with "Heathens", grab the top spot for the 16th night in a row. At the rate the duo is going, they could be on their way to have the longest running song at #1 on the show for 2016, right now the song to beat is "No" by Meghan Trainor which spent 23 nights there earlier in the year. Find out where your votes helped place the songs tonight, also we have a re-entry on the show tonight as well…..
8. "Luv" – Tory Lanez (Re-Entry!)
7. "The Greatest" – Sia feat. Kendrick Lamar 
6. "Side to Side" – Ariana Grande feat. Nicki Minaj 
5. "Perfect Illusion" – Lady Gaga 
3. "Starboy" – The Weeknd feat. Daft Punk 
2. "Let Me Love You" – DJ Snake feat. Justin Bieber 
1. "Heathens" – Twenty-One Pilots 
The duo in fact make it 17 nights at the top! Please remember to help keep it or change it you have to remember to cast your ballot. Please do so each and every weeknight when voting opens at 5 PM. Call 217-844-HITS, text 217-218-0288, or leave your request at The Party's Facebook Page!