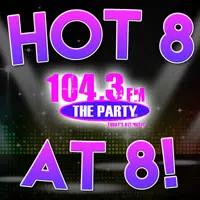 Already Wednesday, hump day, and time for your mid-point Hot 8@8 Countdown with Smoky's House BBQ in Charleston for the week!!! Thus far this week on the show we've seen some high debuts, some big jumps, even a re-entry, but we still haven't seen a new #1. Last night Twenty-One Pilots took the top spot for the 17th night in a row! Find out below if  they go for 18, also no new entry's tonight either….
7. "Side to Side" – Ariana Grande feat. Nicki Minaj 
6. "The Greatest" – Sia feat. Kendrick Lamar 
5. "Perfect Illusion" – Lady Gaga 
4. "Let Me Love You" – DJ Snake feat. Justin Bieber
2. "Starboy" – The Weeknd feat. Daft Punk 
1. "Heathens" – Twenty-One Pilots 
The duo make it 18 nights, but they could have some competition with The Weeknd's new single, it is a fast mover this week! Please remember you help decide where the songs fall! Please be sure to cast your ballot each and every weeknight beginning at 5 PM. Call 217-235-5624, text 217-218-0288, or leave your request at The Party's Facebook Page!