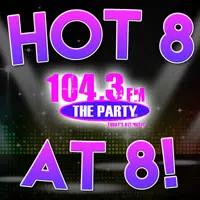 Happy Tuesday! It's time for another round of the Hot 8@8 Countdown with Smoky's House BBQ in Charleston!!! The big question, could we possibly see "Heathens" from Twenty-One Pilots grab the top spot for the 22nd night in a row? Find out what your votes helped decide below, also no new entries tonight either….
8. "I Hate You, I Love You" – Gnash feat. Olivia O'brian 
7. "Perfect Illusion" – Lady Gaga 
6. "All Time Low" – Jon Bellion 
5. "Side to Side" – Ariana Grande feat. Nicki Minaj 
4. "The Greatest" – Sia feat. Kendrick Lamar 
2. "Starboy" – The Weeknd feat. Daft Punk 
1. "Heathens" – Twenty-One Pilots 
Another night down and 22 nights spent at #1 in total for the duo!!! Please remember you help decide where the songs fall each and every weeknight. Please be sure to cast your vote beginning at 5 PM, call 217-844-HITS, text 217-218-0288, or leave your vote at the Party's Facebook Page!