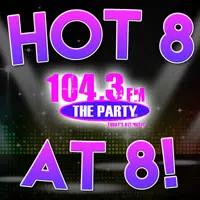 Welcome to your Throwback Thursday Hot 8@8 Countdown for the week with Smoky's House BBQ in Charleston where we'll have your song in reverse for Pop Culture Trivia! Last night was a pretty big night for the show, for a brand new song reached #1! After 22 nights Twenty-One Pilots fell a space and made room for The Weeknd and Daft Punk with "Starboy" to take over the top spot! Find out if it will go for another night, check out below to see what your votes helped determine and also excited to say we have one new entry tonight as well….
8. "This Town" – Niall Horan (Debut!)
7. "All Time Low" – Jon Bellion 
5. "Side to Side" – Ariana Grande feat. Nicki Minaj 
4. "The Greatest" – Sia feat. Kendrick Lamar 
3. "Heathens" – Twenty-One Pilots 
1. "Starboy" – The Weeknd feat. Daft Punk 
Another steady night at #1 for "Starboy", please remember you can help decide where the songs fall each and every weeknight beginning at 5 PM. Be sure to call 217-844-HITS, text 217-218-0288, or leave your request at The Party's Facebook Page!