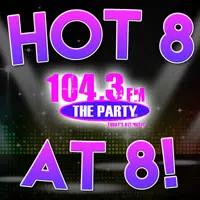 One of my favorite phrases…It's Friday!!! We've made it through another work week and it's time for your final Hot 8@8 Countdown for the week of October 10th through the 14th with Smoky's House BBQ in Charleston! For the past two nights we have seen The Weeknd with Daft Punk take the top spot with "Starboy", can they go a third night and close out their first week at the top? Find out below…also no new entries tonight either.
8. "All Time Low" – Jon Bellion 
6. "Side to Side" – Ariana Grande feat. Nicki Minaj 
4. "The Greatest" – Sia feat. Kendrick Lamar
2. "Heathens" –  Twenty-One Pilots 
1. "Starboy" – The Weeknd feat. Daft Punk 
That's three nights and counting now for "Starboy". Please remember if you would like to keep it there when the countdown resumes on Monday, please be sure to VOTE! You can do so by calling 217-844-HITS, texting 217-218-0288, or leaving your request at The Party's Facebook Page!